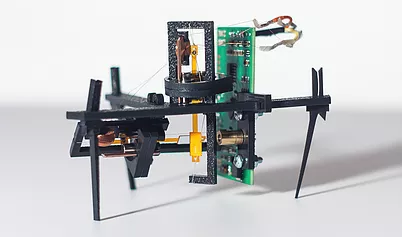 I didn't heard about the Peachy Printer until recently when I found out about a kind ridiculous video where the project author declared having lost all the money to his crook associate.
https://www.youtube.com/watch?v=80HsW4HmUes&t=149s
What is it about ?
The Peachy Printer was a $100 3d printer project launched in 2013.
To reach such a low price point, the creator of the project claim having completely rethink the way 3d printer are built.
Therefore, the Peachy Printer would use a stereo lithography system : that liquid resin solidifies when hit by a laser beam.
The only moving parts are mirror directing the laser to part of the resin to solidify.
The level of resin will raise during the printing by adding drop of salt water which would sink underneath the small layer of liquid resin.
This technique is suppose to be very simple and requires very few moving part.
To simply things further and to save driving components :
* Mirror rotation will be driven by an analog signal coming from the sound card.
* Water drop feedback will be given by an analog signal fed to the mic input of the sound card.
Needless to say that starting such a complex project with an original approach is very difficult.
Hence the concept idea sounds already completely dumb from the start...
So the project failed after a year of regular feedback with a "bad news" announcement.
Was it a scam ?
It's fairly difficult to assess that it was clearly a scam from the start.
The number of video posted showing people working and talking about the project lead to think that there was a least an attempt to deliver something.
The very rough demos that can be seens clears tells that the project wasn't going anywhere anyway.
Why not just vanish with money instead of giving regular feedback ? I'm more keen to think that the project was started by somebody who didn't had a clue about how to get from an idea to an industrial project.
After an unexpected Kickstarter success, he'll start working on developing his idea soon to realize, after having blown a big chunk of the money, that it is simply no feasible.
Claiming that the money was stolen was the only sound alternative in order to be able to keep the money from the backers.
For me, Peachy Printer is a failure turn into a scam.
Hardware projects on Kickstarter
I subscribe to the idea that "complex" hardware projects on Kickstarter : robots, 3D printers, video game consoles are scams for multiple reasons:
* Delivering hardware products is extremely hard and requires multiple skills beyond electronic knowledge.
* An idea, if any good, will probably get stolen : it's so easy to copy any electronic devices theses days.
* Being able to deliver a product to a large customer base requires investment that have to be made upfront, which mean that the project is already largely funded and didn't requires Kickstarter.
* If a Kickstarter backer pays for product that he is actually willing to receive at a good price, who is paying for the R&D ?
* Successful Kickstarter hardware projects :
Oculus Rift : backed by investor and eventually bought by Facebook
Pebble : delivered but didn't manage to stay in the business for long
Ouya : delivered but didn't manage to stay in the business for long
These 3 projects delivered on Kickstarter but there were not simple hardware device, the software (drivers/proprietary SDL/proprietary eco-system) was the one true thing that prevent copy.
Furthermore none of them managed to stay in the business as independent company which sums up the harsh difficulty of making and selling hardware devices.